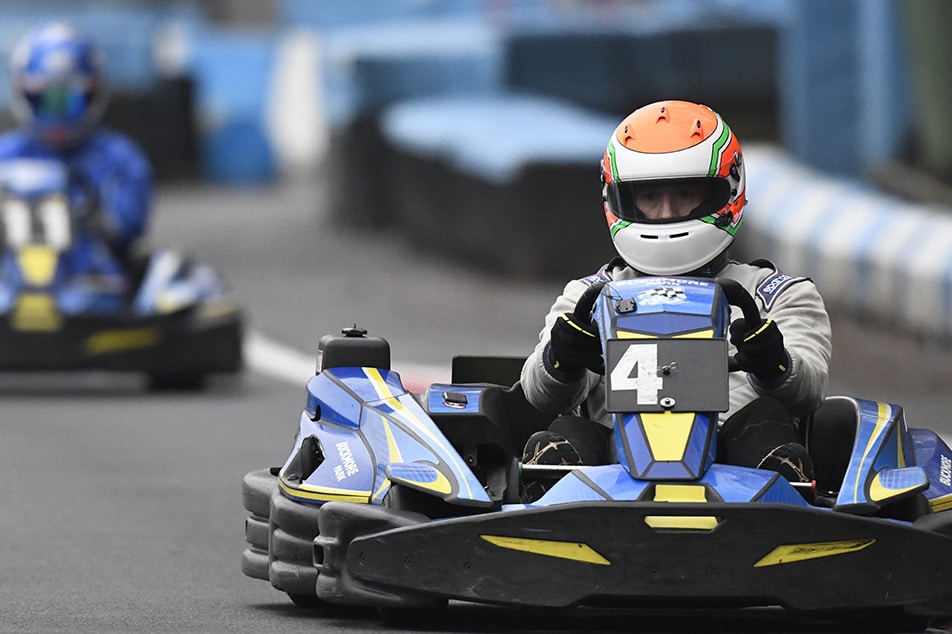 There's something that I've kept pretty quiet about over the last 3 or 4 years…
I've been racing again in karts :- )
The last time I'd been on a race track before that was back in 2003…
I remember my last race like it was yesterday.
The previous year I'd set what was (at the time) a lap record of 1:45.215 seconds in qualifying at Hockenheim in my teams Porsche GT3 and almost won the race, only to be knocked out by a 'kamikaze' manoeuvre by a competitor which pushed the bodywork on to right rear tyre.
Still in the lead, the tyre then blew at around 150MPH on the fastest part of the circuit on the penultimate lap.
C'est la vie…
However a year later in 2003, it was a rather more sombre affair, with us qualifying a lacklustre 9th and scoring a dismal 13th place finish.
I decided then that I was done with racing because I had such lofty ambitions, which couldn't be reached due to monetary constraints.
It was the very next year that I started BTST.
I tentatively got back in to motor racing by accident in 2014, 11 years after giving up "for good" when a friend asked me to do a charity kart race at Buckmore Park.
I was hooked again…
I've been racing two or three times per month in kart races and it's gone pretty well…
(9 championship wins at 4 circuits :- )
It's my true passion and "calling" in life — I have no idea why…
Anyway, while I've been doing this kart racing, I've come across some seriously talented young drivers who sadly don't have the funds to go any further.
It's not common knowledge, but to even make the grid in Motorsport, you need access to a lot of money.
It's not in the sports interests to publicise this fact, but it is actually extremely elitist.
And to win in any formula other than the sort of kart racing I've been doing of late costs way beyond the means of even well off people.
I'll tell you some stories I have to demonstrate this point along the way no doubt…
The point is that there are some incredible young drivers out there who are talented and dedicated but simply can't afford to progress their careers.
This is what gave me the idea of creating an Academy for young drivers who demonstrate that they are deserving of a leg up.
The sort of driver or drivers I would like to help are a) super dedicated; b) talented; c) have the winning attitude; d) can't afford to chase their dream.
I'm thinking of tentatively starting this year and the working title is:
The plan is to offer the benefit of my experience to guide one or more young drivers who show the commitment, as well as the finance to get them on track and winning.
TALEX can contribute some money to this project, but can't finance it all.
However, I'm thinking is that we could finance this together as a community…
There are 462 BTST Members on this "I love motorsport" email list and if we all contributed a few pounds a month, we could really help one or more deserving young drivers.
What do you think of the idea?
Would you be in if there is enough interest from other Members?
If there's enough interest, I think we'll get going.
Adam